Truss announced at a news conference Friday that she would scrap a flagship policy, the latest reversal in the face of mounting political and economic chaos.
YOUR VIDEO BEGINS IN 00:05TAP TO UNMUTE
Link copied
Oct. 14, 2022, 6:17 PM PKT / Updated Oct. 14, 2022, 8:50 PM PKT
LONDON — Embattled British Prime Minister Liz Truss axed her finance minister and a flagship policy Friday, in a bid to save her job after weeks of market panic stoked by her economic plan.
Truss announced at a news conference that she would scrap a planned tax cut, the latest reversal in the face of mounting political and economic pressure.
She added that she was "absolutely determined" to carry on, saying she had changed course "to reassure markets of our fiscal discipline."
She was also seeking to reassure her ruling Conservative Party, whose polling numbers have plummeted alongside the value of the pound — fueling speculation that she could be ousted just weeks after taking office.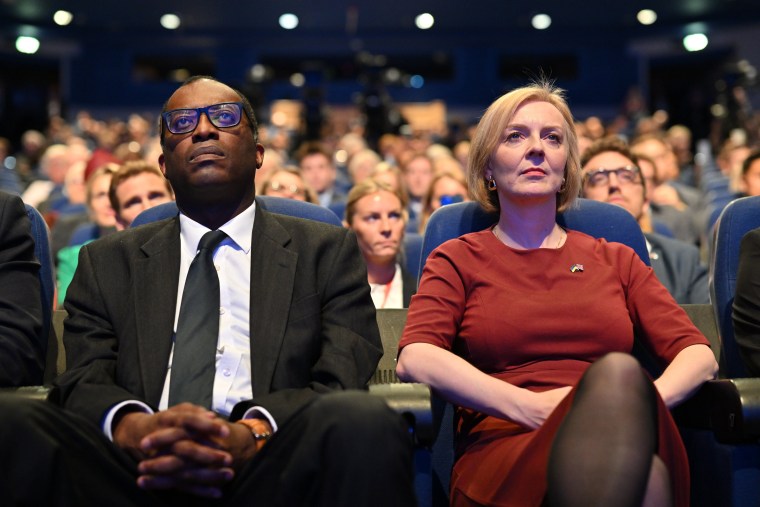 Truss said she stood by her radical low-tax strategy and remained "ambitious for growth."
"But it is clear that parts of our mini-budget went further and faster than markets were expecting," she added. "So the way we are delivering our mission right now has to change."
She scrapped plans to keep her predecessor Boris Johnson's promise to raise corporation tax from 19% to 25%, an embarrassing climbdown from a pledge that helped her win the race to succeed the scandal-tarnished Johnson as leader.
Hinting at spending cuts to fund the remainder of her plans, Truss said that future "spending will rise less rapidly than previously planned," a move that will be pilloried by opposition parties as imposing further pain on a British public already facing a cost-of-living crisis.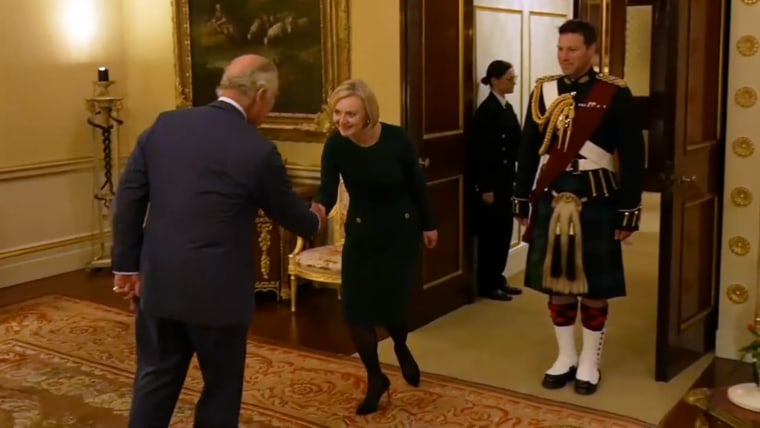 OCT. 13, 202200:53
Earlier, Truss removed Finance Minister Kwasi Kwarteng just 38 days after the pair took power. He had been the face of the tax-cutting "mini-budget" that sent the pound crashing and fueled the country's latest political crisis.
Kwarteng announced his departure on Twitter, saying: "You have asked me to stand aside as your Chancellor. I have accepted." He had hastily returned to London earlier Friday from a meeting in New York, with the media tracking his flight as it arrived home.
He attached a defiant letter in which he said his strategy was right, failing to even mention the turmoil of the last two weeks. "Following the status quo was simply not an option," he wrote.
Kwarteng becomes the second shortest-serving chancellor of the exchequer, as the British finance minister is known. He is second only to Iain Macleod, who died after 30 days in office in 1970.
In a written reply, Truss said: "We share the same vision for our country and the same conviction to go for growth."